Field Training Officer
Sokolove Model
Certification
This course is certified by the Illinois Law Enforcement Training and Standards Board.
Training Mandates
This course meets state guidelines for the following mandated subject areas:
Law Update  (annual)
Civil Rights  (every 3 yrs.)
Constitutional & Proper Use of Authority  (every 3 yrs.)
Cultural Competency  (every 3 yrs.)
Human Rights  (every 3 yrs.)
Procedural Justice  (every 3 yrs.)
Description
This program is designed for experienced uniform patrol personnel who will serve as Field Training Officers with probationary employees.  Instruction will emphasize the FTO's role in assisting probationers certify for solo patrol operations by applying the knowledge and skills acquired during Basic Police Training/Certification and using them according to policy, procedures, and community service delivery standards.  Consequently, students should be familiar with their department's current Field Training and Evaluation process.
Students must bring a copy of their department's Probationary Officer Manual and forms to class.
The course will highlight two essential Field Training and Evaluation Process Skills:  (1) the ability to examine and objectively document the probationer's job behaviors using non-numerical/behaviorally anchored standardized assessment guidelines, and (2) analyzing the probationer's training needs and using proper instructional techniques for corrective action.  Instruction will include hands-on application of the course materials in small group and individual exercises.  In addition, students will be required to complete out-of-class reading assignments.
Topics
Operational structure of the Field Training and Evaluation Process
Inventorying the probationer's current knowledge/skill proficiencies
On-the-job instructional techniques and strategies
Examining probationer assessment standards
Utilization of non-numerical standardized evaluation guidelines
Objectively documenting probationer performance
Documenting the extent of training and coaching
Strategically addressing areas of Corrective Action Necessary
Utilizing the Probationer Officer Manual as the Field Training playbook
Preparing the probationer for proactive community oriented policing
Instructor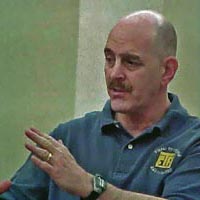 Bruce A. Sokolove, Principle
Field Training AssociatesRead more